Physical Therapy
Healing Hands: Antigua's only professional therapy center
Healing Hands currently has a team of three physical therapists, led by Micky Morrison, P.T. Micky trained at the University of Tennessee and continues to hold U.S. licensure. Her 15 years of diverse physical therapy experience make Micky a valuable resource in Antigua. She and her team will not let you down.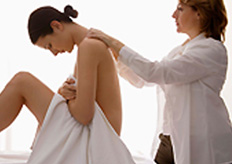 In addition to the professional staff, Healing Hands offers first-rate facilities for therapy including a full fitness center and a complete offering of therapeutic modalities including ultrasound, electric stimulation, TENS, paraffin baths, moist heat, and cryotherapy.
The Healing Hands team of physical therapists works closely with several of Guatemala's finest physicians to treat patients with a variety of conditions, including post-operative rehabilitation after orthopedic surgeries, neurological conditions such as stroke and Parkinson's disease, and various common aches and pains.
The physical therapy team's specialty in manual therapy has given them great success in treating neck and back pain, tendinitis, bursitis, sciatica, chronic tension headaches, and muscle spasms.
Come in for an evaluation. For whatever ails you, you are in the right hands.